Haiijaii (meaning "breathe" in Thai) is a light installation fueled by data of air quality index collected from various locations around the world. The lights "breathe" according to the pureness of the air. Some will flicker, emulating us choking from pollution and some will pulse slowly, like steady inhalation and exhalation from a healthy atmosphere.

Art x Sustainability
The art installation is made out of recycled used and unwanted materials, Haiijaii aims to give a second life to the preloved, and promotes sustainability in all the materials we use.
Sustainable materials
In this modern single-usage era, we would like to restate the practice of giving a "second life" to our preloved items. Ranging from bamboo woods, commercial neon signs, beach mats. These materials serve as visual stimulations for inspiring cohabitation in the world; the city, the forest and the beach, nourishing them, nourishing us.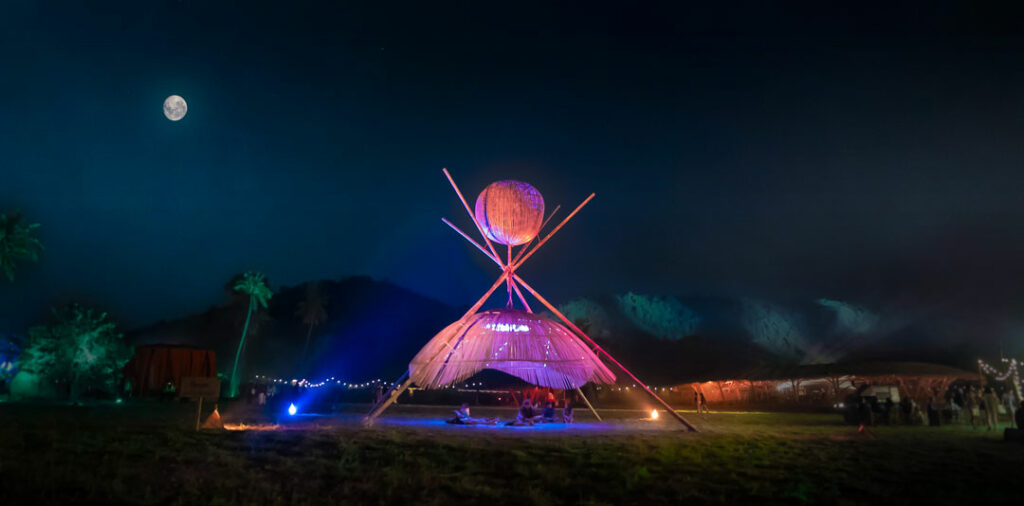 Neon – The intangible cultural visual language
We are reconstructing used and unwanted commercial neons, and giving them a new life in terms of visual shape and purpose.
In Haiijaii, our art installation, each set of neon piece would represent a country or region.
Traditional commercial use of neon light peaked its height in the 1950s, where it became the inspiration for a lot of futuristic sci-fi movies.
With its downturn due to the rise of commercial LED neons and lightboxes as well as government regulations, neon became a declining and shrinking scene globally. However in recent years, there has been an artistic revival reformation to bring back the neon, as seen around the world in art works, commercial spaces and signage.